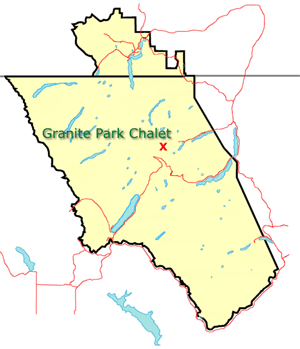 Glacier National Park
Location
Granite Park Chalet is on the west side of the continental divide, north of Going to the Sun Road in Glacier National Park. It is accessible from two trailheads along Going to the Sun Road, as well as from the Many Glacier area to the east and from Goat Haunt to the north.
---

Trails into Granite Park Chalet
Trail Caveats:

No pets are allowed in the back country.
Trails are for hikers and horseback riders only, no bikes or other 'vehicles' allowed.
Horses are not allowed on the Highline trail between Logan Pass and Granite Park Chalet
Parking is extremely limited at the Loop, Logan Pass and Swiftcurrent. To help alleviate parking congestion we encourage you to car pool or use public transportation for access to trailheads. Try Glacier's Shuttle System.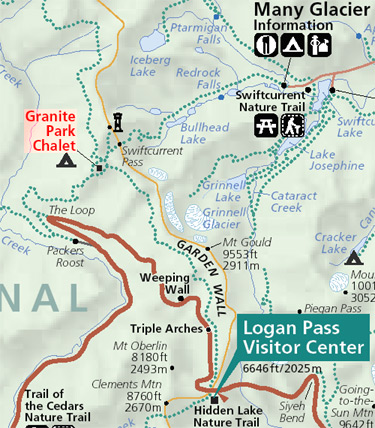 The Highline Trail
Trek the famed Garden Wall, along the Continental Divide. This is the most popular route into Granite Park Chalet. Enjoy the many beautiful panoramic views afforded from this trail. Rock formations, flowers and occasional glimpses of mountain goats, big horn sheep and deer make this a most memorable trip.
TRAILHEAD: West of the Logan Pass Visitor Center
LENGTH: 7.6 mile trail
DIFFICULTY: Easy to moderate difficulty

This trail typically does not open until after the first week in July. The opening of this trail depends on the weather and snow conditions for any given year. If you are planning an early season trip into Granite Park Chalet be sure to check the trail status online or at a park visitor center.
The Loop Trail
This is the shortest trail to Granite Park Chalet. Experience firsthand the effects of the 2003 fires! Observe new undergrowth, wildflower displays, and new vistas.
TRAILHEAD: The switchback on the Going to the Sun Road eight miles west of Logan Pass, known as the 'Loop' trailhead.
LENGTH: 4 miles long.
DIFFICULTY: A 2300' climb. A trail where the climb is worth it!
Swiftcurrent Trail
Prepare yourself for waterfalls, wildlife, switchbacks, and stunning panoramic views of the Sherburne Valley on this exhilarating hike! Many guests depart from Granite Park to descend this trail on their way out.
TRAILHEAD: West end of the Swiftcurrent Store parking lot. (1 mile west of the Many Glacier Hotel)
LENGTH: 7.5 miles
DIFFICULTY: 2285' climb
Fifty Mountain/Waterton Lake Trail
Prearrange transportation at Waterton Lakes National Park and continue North on the Highline Trail to CANADA!
See Entry and Exit Information for Goat Haunt
TRAILHEAD: Depart from Granite Park Chalet
LENGTH: 24.8 miles to Goat Haunt Ranger Station at the south end of Waterton Lake (11.6 miles to Fifty Mt.)
---
Granite Park Chalet Hiking Opportunities
Sign up for an Interpretive Hike. Reservations are required.
Visit the Swiftcurrent Lookout (8436')
The highest Lookout in Glacier, with an unrestricted 360 view.
Travel to Ahern Pass (5 miles)
Head north and follow the continental divide to Ahern Pass, a quiet trail where spectacular views await you.
Grinnell Glacier Overlook (1.4 miles)
Hike a well traveled steep trail to view glaciers along the continental divide.
Take a leisurely stroll to Swiftcurrent Pass (.9 miles)
View Bear Valley and Heaven's Peak right from Granite Park Chalet!