September 13, 2020 - Sunday
Closed for the season
It has been another rich summer of adventure. The pandemic has tempered the mood and limited our travel and socializing options, but many of us still got to hike and enjoy the mountains. An endeavor we know to be good for the soul in these difficult times.
For those of you who were able to travel, hike, and visit the chalets, it was a pleasure to serve you. For those whose circumstances resulted in changed plans, we look forward to the next opportunity. The need for parks, mountains, and beautiful hiking trails has never been more apparent to us.
Have a safe and healthy winter. Check our website around the holidays for details about 2021 reservations opening on January 11.
Happy trails
September 2, 2020 - Wednesday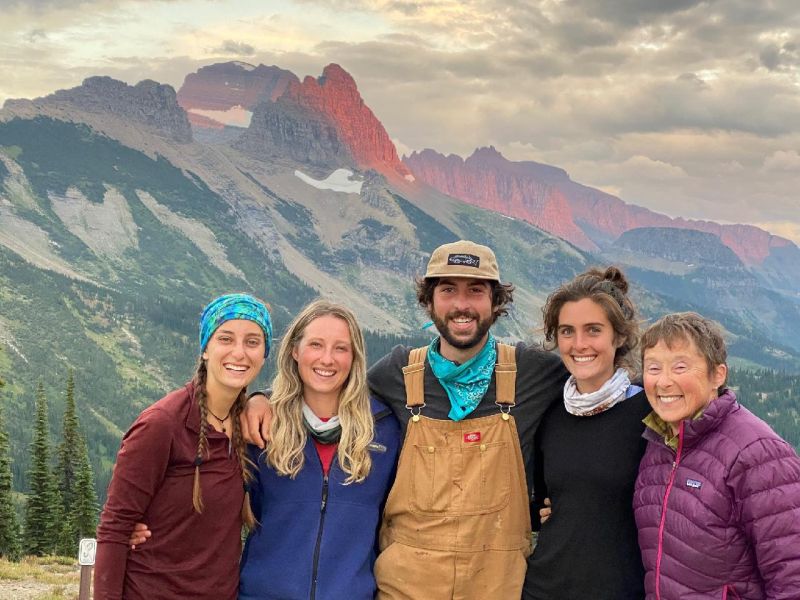 With our season wrapping up soon the Granite Park Chalet crew, Nicole, Lauren, Nathan, Dahlia, and Kathie, wanted to say thank you to all the wonderful visitors we have enjoyed this summer.
July 27, 2020 - Monday
The Highline Trail is Open!
To our wonderful guests and friends,
Enjoy the Highline Trail as it is open for your usage. Travel safely, use caution on the snow, and we'll see you in the high country.
July 16, 2020 - Thursday
Governor Bullock issues statewide mask mandate as coronavirus cases climb
Under the directive, "businesses, other indoor spaces open to the public and sponsors of organized outdoor activities may also deny entry, refuse service or ask any person to leave if they refuse to wear a face covering."
To our guests, we share our gratitude to you for following the COVID 19 mandate. Thank you!
See you in the beautiful Glacier high Country!
July 13, 2020 - Monday
Chalet Travel Tips
July 13, 2020
To our wonderful chalet guests,
To move swiftly through the West entrance gate at GNP, we highly recommend you purchase your season/seven day pass, etc. online before your arrival. Bring your GNP pass documentation with you.
Secondly, in the event GNP moves to a timed entry reservation system (which it has not at this time), you will be exempt as a chalet guest. Print out your confirmation form and place in your back back for verification purposes.

Finally, neither the Highline Trail nor the Gunsight Trails are open as of 7/13/20. Upon your arrival, please check the trails status page: nps.gov/glac/planyourvisit/trailstatusreports.htm for accurate information.
Please note: trailhead parking is at a premium-the parking lot at Logan Pass filled at 7:15am this morning.
See you on the trails! Kathie
June 26, 2020 - Friday
Transportation and parking
Granite Park Chalet is opening on schedule beginning June 29. Going to the Sun Road, on the other hand, does not have a planned opening date. If your Granite Park Chalet reservation is earlier than July 5 we are trying to get in touch with you to arrange your trailhead shuttle.
We know that Going to the Sun Road will not be opening beyond Avalanche Campground before the July 4 holiday. Once it does open your private vehicle will be needed to reach the trailhead. Trailhead parking will be limited and congested, shuttle service is not available this year. Our best advice is to get an early start for your trip into Granite Park Chalet. The earliest hours of daylight are not too early to be moving toward the trailhead.
All Granite Park Chalet access will be via the Loop Trail for the time being. Our best guess, the Highline Trail might open about a week or so after the road opens to Logan Pass. The Highline Trail is very dangerous when snow covered, do not attempt this route when posted as closed.
Happy Hiking
June 4, 2020 - Thursday
Chalet visits in a season of Covid-19
Glacier National Park has announced they intend to begin the phased re-opening on June 8. This means that our chalet season can proceed on schedule.
We have organized our Covid-19 policies, procedures, and plans for you to review. For more information about how the pandemic will impact your plans for a chalet visit please review our Covid-19 information page.
May 28, 2020 - Thursday
Planning to re-open Glacier
We are encouraged by news from the National Park Service that there is a phased plan for reopening Glacier National Park. You can find details of the re-opening plan here: https://www.nps.gov/glac/planyourvisit/openingplan.htm
What we do not have are specific dates for any part of the opening process. We are optimistic that the park will begin opening sometime in June in time for the chalet operating season.
Do not expect all park services or facilities to be available this year. When you make your visit please come prepared:
To maintain social distance from other visitors.
Wear a breath mask when near others.
Be self sufficient. Dining, camping and other amenities may have limited availability.
And please keep Glacier healthy. Do not travel if anyone in your party is ill or has been exposed to others who are ill.
Be safe out there.
May 11, 2020 - Monday
Coronavirus planning
As we learn more from county and state health agencies and stay in communication with the National Park Service we are growing cautiously optimistic that the chalets will be able to open in the face of the Covid-19 pandemic.
Our guests should be advised that this will not be a typical season of chalet comforts in the wild. We will be on high alert for any illness or contagion. We are expecting a lot of changes in how the chalets operate. For example:
Social distancing must be maintained with all other parties and staff. We will treat your party as a family unit that can interact and share rooms with each other.
There will be restrictions on building access. To manage exposure the chalet structures will only be available to reserved guests and occupancy of common areas will be limited.
Attractive nuisances that invite crowding or virus transmission will be removed. The fireplace will be cold and the books and games library will not be available.
If any visitor begins showing signs of illness while at the chalet the entire party will be evicted and must evacuate to the front country for medical attention. The chalets are to far from medical help and to close quarters to take any chances.
If any member of your party shows signs of illness in the days leading up to your reservation we ask that you cancel your trip. Please do a good service for the health of our National Park, our communities, and your fellow travelers by not spreading possible infections.
If you do not have a chalet reservation but are interested in visiting us on a day hike, be advised that the chalet structures cannot shelter you and food service will be limited or unavailable.
We will be fine tuning the details of our Coronavirus plan as summer approaches and we will work to keep our guests informed on what to expect. We are taking unusual and extreme measures because we hold the health of our staff and guests as our highest concern. It is unfortunate that safety measures prevent us from opening our doors to everyone. Thank you for the kind understanding. With this season of sacrifices we will be in a better position to offer the warm embrace of chalet hospitality in the future.
Be safe out there.
Look up old news:
2007 2008 2009 2010 2011 2012 2013 2014 2015 2016 2017 2018 2019 2020