Guided Interpretive Workshops
Granite Park Chalet is uniquely suited for naturalist outings led by trained experts with many years of experience in Glacier National Park. Few other places in North America afford the opportunity provided by the Chalet's location for park visitors to experience first hand the natural world in an unbroken ecosystem.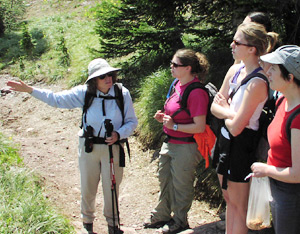 2023 Operating season and workshop schedule:
June
Sun
Mon
Tue
Wed
Thu
Fri
Sat
1
2
3
4
5
6
7
8
9
10
11
12
13
14
15
16
17
18
19
20
21
22
23
24
25
26
27
28
29
30
July
Sun
Mon
Tue
Wed
Thu
Fri
Sat
1
2
3
4
5
6
7
8
9
10
11
12
13
14
15
16
17
18
19
20
21
22
23
24
25
26
27
28
29
30
31
August
Sun
Mon
Tue
Wed
Thu
Fri
Sat
1
2
3
4
5
6
7
8
9
10
11
12
13
14
15
16
17
18
19
20
21
22
23
24
25
26
27
28
29
30
31
September
Sun
Mon
Tue
Wed
Thu
Fri
Sat
1
2
3
4
5
6
7
8
9
10
11
12
13
14
15
16
17
18
19
20
21
22
23
24
25
26
27
28
29
30
Alpine Wildflowers
Grizzly Bears
Geology of Ahern Pass
Geology of the Granite Park Area
Art in the Granite Park Alpine Environment
Mountaintop Megafauna
2023 Schedule
July 10 and 11
July 11 and 12
July 20 and 21
July 21 and 22
July 24 and 25
July 27 and 28
August 14 and 15
July 25 and 26
July 28 and 29
August 15 and 16
August 4 and 5
August 5 and 6
Each Workshop includes:
Introductory evening overview session.
All day interpretive workshop, highlighting specific features in the heart of Glacier National Park's unequaled scenery!
Wrap up evening session to be enjoyed by all.
Complimentary large bottle of water and snack provided.
Costs:
$60.00 per person in addition to the required two night chalet reservation.
Space is limited and reservations are required.
All workshops take place rain or shine.
Cancellations
Full payment for any interpretive hike is required within two weeks of booking and in advance of the chalet stay.
Deposits for canceled interpretive hikes will be refunded if the reservation is filled by another guest.
The charge for a canceled workshop is non-refundable if we are unable to re fill the vacancy.
To reserve your space or for more information, call the Granite Park Chalet reservation office: 1-888-345-2649
---
Alpine Wildflower Workshop
Join a former National Park Service naturalist for an alpine wildflower experience with outstanding mountain scenery all around. Observe physical factors of the environment to which alpine plants have successfully adapted. Rubber roots, hairy stems, underground flower buds, solar collecting flower blossoms, mature plants, growing young plants, and cushion and rosette growth forms, all enable these wonderful plants to survive in this beautiful, but harsh landscape.
Depending on the flowers in bloom, Swiftcurrent Fire Lookout Trail, or the Grinnell Glacier Overlook will be used to view the rocky alpine species. Both of these trails gain approximately a thousand feet in elevation. Since we are identifying plants and flowers the walking pace is slow.
Hand lenses are nice to have. A few lenses may be borrowed. A simple identification key will be provided for use during the workshop. Feel free to bring a favorite plant identification book if you have one.
Your guide will be Janet Paul Bones, a former ranger naturalist in Glacier National Park, a teacher and presenter for the Smithsonian Institute and the Glacier Institute. She has been teaching field classes in Glacier National Park since 1984. Her longtime commitment to education and her extensive experience in Glacier National Park make this an extraordinary opportunity.
Hiking Level: Moderate.
Grizzly Bear Workshop
Bears, especially grizzlies, are on everyone's bucket list when they visit Glacier National Park and especially those who spend a night or two at Granite Park Chalet. However, how much does the visitor to Granite Park know about the animal that turns a wild area into a wilderness?
Grizzlies are arguably the most dramatically fascinating animals inhabiting the million acres of Glacier Park. The time participants spend in this workshop will only increase the sense of awe surrounding "the bear". The evening will include a general discussion about safety around bears, what to consider if you have an encounter, and a couple stories about Neal's up close and very personal experiences. Conditions permitting, time will be spent outside looking into Bear Valley for the elusive grizzly and answering questions.
The following morning, after breakfast, of course, we will load up with water and snacks and head south out the Highline Trail as far as Grinnell Glacier Overlook. We will be looking for bear sign, discussing bear ecology, habitat and its life cycle. Once we've explored the surrounding area for bears, we will head north on the Highline Trail toward the Ahern Drift area. We will continue discussions about controversies currently surrounding grizzlies in the Greater Continental Divide Ecosystem, Yellowstone, the North Cascades, and areas contiguous to Glacier National Park. On the return route to the Chalet we will talk about Glacier's current bear management policies and how they are related to "The Night of the Grizzly".
Hiking will be moderate in difficulty and at a group hiking pace, covering about six miles on the Highline Trail.
Neal Wedum was a Glacier backcountry ranger for twelve years, supervised Glacier's Bear Management Team for six years, and was on-site manager of Granite Park Chalet for four years. He and his wife have been campground hosts at Two Medicine campground for the past eight years. Neal has been hiking in the park for sixty-four years covering all the trails, some several times. In his spare time he taught school for twenty years, was a school administrator for twenty years and an educational consultant for ten years.
Art in the Granite Park Alpine Environment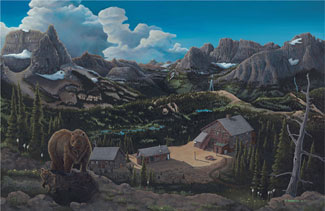 Glacier's surreal beauty and mysterious wonders have been inspiring artists for thousands of years. Experience the Park through the eyes of an artist, as you capture the breathtaking scenery around Granite Park Chalet through watercolor painting. During this workshop, you will enjoy relaxing painting lessons from an accomplished artist, while learning to work in the unpredictable environment of Glacier National Park. This workshop will take place mostly within the compound of the Chalet, but since every artist sees the world differently, subject matter will be determined by you. We will begin the day with a quick painting exercise to get in the mindset of an artist. We will use these exercises to explore the difference between what we see and what we feel, and learn to use each in a final painting. From there, we will begin working on our piece for the day. We will start by learning how to construct and frame a drawing accurately, using and understanding scale and composition. From there, we will jump into painting. We will begin with instruction on how to see and capture light and shadow as another method of developing composition. As we develop our paintings, you will learn different ways to build clean and unique washes, create texture with brush strokes, learn about color, and acquire the ability to study light and shadow in order to capture the drama it imposes on a landscape. Following the nightly lecture, weather permitting, we will also have the option of going on a quick hike to Sunset Ridge, and paint in the evening.
Evening talks will explore the history of art in Glacier National Park, from traditional Native art, to the advertising of the Great Northern Railroad, Charlie Russell's Bull Head Lodge, and working contemporary artists. We will discuss and analyze the relationship between art, artist and Glacier Park.
Art supplies will be the responsibility of the guest. A supply list is available for anyone interested, but you can expect to get everything for approximately $25 or less.
Instructor Adam Grensten, is an awarded artist, former chalet employee, and is experienced in teaching art to all ages. At an early age, Adam gained a deep appreciation for nature and the wildlife that inhabits Montana. Eventually, this admiration of the natural world sparked an interest in art. After four summers spent working in and around Glacier National Park, he found his calling as an artist dedicated to capturing and understanding the natural world. In 2008, at age 19, Adam was awarded the title of Montana Ducks Unlimited Artist of the year. After four years at Montana State, Adam's art career has steadily flourished throughout Montana and Seattle. His work has been shown at many galleries including the Lewistown Art Center, The Spotted Horse Gallery, The Urban Lights Studio, The Full Circle Gallery, The Quadrapus, The Gasworks Gallery and The Eight and Sand Gallery. In 2014, Adam opened The M T Minded Gallery in Lewistown, MT. Adam has taught painting classes through the Adult Education Program in Lewistown, and was the Director of Art Education at the Lewistown Art Center in 2015. Here he gained experience teaching art to kid's ages 4-16.
He was selected in 2016 as one of the artists for the visual entertainment for Sasquatch Festival. Now, as a renowned muralist in Central Montana, Adam maintains his gallery presence online, while focusing on exploring new environments to continuously expand his love and understanding of nature. His friendly and easy-going demeanor, and knowledge of the Granite Park area will make this learning experience fun and rewarding.
Geology Workshops
The Geology Workshop comprises an evening orientation session on the Geology of Glacier National Park, two half-day field trips led by a trained geologist and a wrap up session in the evening. Instructor - Jeff Kuhn
Geology of Granite Park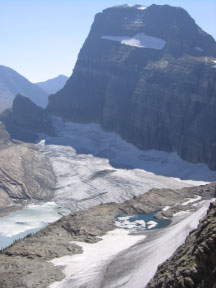 Originating at Granite Park Chalet, a morning field trip will take participants along the Highline Trail to the Grinnell Glacier Overlook to see a spectacular view of Grinnell Glacier, one the largest of Glacier Park's remaining glaciers. The group will hike along the great glacial arête that forms the crest of the Continental Divide - "the backbone" to Native Americans. The field trip will emphasize recent US Geological Survey research focusing on the rapid recession of Glacier Park's glaciers due to the current global warming trend. Grinnell Glacier is one of the largest remaining glaciers in Glacier Park and one of the best examples of glacial recession in the United States. The group will continue discussion on the unique Precambrian geology of Glacier Park and its place in the geologic development of the North American continent. A striking and well-exposed sequence of algal stromatolites (fossil algae), red and green argillites, and tan to gray dolomites of the Snowslip and Helena Formations, will be observed during the hike. Most geologists theorize that these rocks are good evidence that the earth's atmosphere was quite different during the Precambrian. An atmosphere rich in CO2 may have allowed for the growth of massive algal colonies such as those preserved in the Precambrian rocks of Glacier National Park. The group will also discuss plate tectonics and the importance of the Lewis Thrust Fault in Glacier Park's geologic history.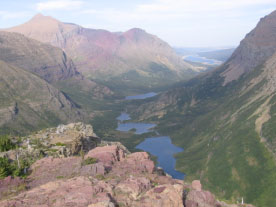 During the afternoon, our geologist will guide participants over the Precambrian basalt flows at Granite Park and ascend the Swiftcurrent Pass Trail to its highest elevation above the chalet where the incredible glacial landscape of the Upper Swiftcurrent Valley can be viewed to the east. The focus of this hike will be to observe the large lava flows visible in the area, and to gain a better understanding of the geologic forces that create glacial landscapes. The Purcell Lava represents an ancient sequence of volcanic pillow basalts deposited on the seafloor approximately one billion years ago. The group will discuss the environment of deposition of these unusual volcanic rocks and how they have come to be located at the crest of the Continental Divide in Glacier National Park. From the top of Swiftcurrent Pass the group will view the Swiftcurrent Glacier and learn to identify features of the glacial landscape sculpted by moving ice during the last Ice Age. Swiftcurrent Pass is an excellent vantage point for this discussion and also provides a good overview of Glacier's geologic history. The peaks of Waterton National Park, Canada, to the north, the Blackfeet Indian Reservation to the east, and the edge of the great overthrust, known as the Lewis Thrust Fault, can be seen from Swiftcurrent Pass. It is a spectacular view not to be missed.
Jeff Kuhn will be your guide for this workshop. Jeff is a trained geologist and a long-time veteran of Glacier National Park. He has worked seasonal positions as a Back Country Ranger in the Belly River area, fought fires as a member of the Glacier National Park Hot Shot Crew, and worked as an employee at Many Glacier Hotel. Jeff is currently employed by the Montana Department of Environmental Quality as a program manager and hydrogeologist. We invite you to come and explore Glacier's awesome and dynamic natural world first hand with an experienced geologist.
Hiking Level: Moderate to strenuous.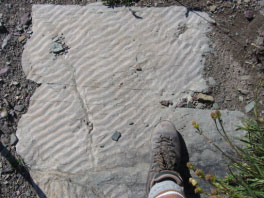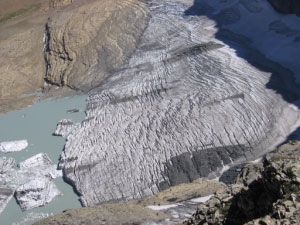 Geology of the Ahern Pass Area
The day hike from Granite Park to Ahern Pass, is approximately 10 miles round-trip. It covers a dramatic and beautiful stretch of the Highline Trail that continues north to Waterton Lake. There is a moderate elevation gain of 300 feet from Granite Park to the Ahern Pass spur trail, then an additional 400 feet to the incredible viewpoint at Ahern Pass. From the pass there are striking views of the Pinnacle Wall, Iceberg Notch, Ahern Peak, Helen Lake, and Belly River Country to the north. The geology along the trail is spectacular. We'll discuss the depositional environment of the Precambrian Helena, Snowslip, and Shepard Formations, and the formation of the extensive lava flows that the trail dissects for the first several miles, eventually arriving at the "algal reef" near Ahern Drift. The Climber's Guide to Glacier National Park (J. Gordon Edwards, 1984) often refers to the "algal reef", a prominent layer of fossil algae, known as "stromatolites" located in the Helena Formation. This layer of stromatolites represents a geologic marker bed widely visible throughout Glacier Park and is well known to climbers. At Ahern Pass we'll look down onto Ahern Glacier and discuss glacial flow, and glacial deposition, familiarizing ourselves with basic glacial terminology. We'll also discuss climate change and its profound effect on the glaciers of Glacier National Park. The group will depart from Granite Park Chalet at 8 AM to allow for return to the chalet between 5 PM and 6 PM. Bring good boots, rain gear, binoculars, and lunch for the all day hike.
Mountaintop Megafauna - Goats, Grizz, and Wolverines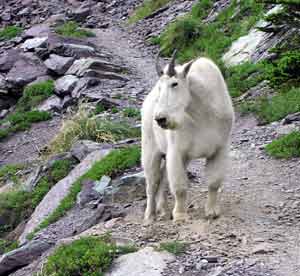 The undisputed masters of Glacier's soaring cliffs and knife-edge ridges are mountain goats, the symbol of the park. Winter claims the upper elevations here for half the year, coating the rocky ledges with snow and ice. Yet when that happens, the sure-footed goats begin using even steeper terrain than during the warmer months. How do they do it? And why? What are the adaptations that allow goats to endure year-round at the upper limits of physical existence for a large mammal? What do they find to eat in a world buried beneath layers of white? Douglas Chadwick, who studied herds for three years in Glacier and four years in nearby ranges, will lead discussions and field outings aimed at explaining mountain goat ecology and the unusual social behavior so important to the survival of this species.
If there is another wild inhabitant of the park that might claim to keep up with goats among the peaks, it is the wolverine. Over the past five years, a groundbreaking study within the park, the Glacier Wolverine Project, has revealed many secrets of this little-known predator/scavenger. Chadwick joined the research effort as a volunteer and has often followed males, females, and their offspring around Granite Park, part of the park population's core range. Always on the move across the mountaintops - one even summited the park's tallest peak, Mount Cleveland, in midwinter this year - wolverines are hard to find and harder to follow. Yet Glacier probably offers the best opportunity in the world for seeing them. Chadwick will discuss their enormous home ranges, their ties to high elevations and deep snows, and surprising new discoveries about the social relationships of these supposedly solitary carnivores.
Last, though anything but least, is the grizzly. Granite Park supports a variety of top quality habitat for the great silver-tipped bears, and they frequent the slopes during autumn to forage on berries and the bulbs of avalanche lilies. The group will examine signs of recent feeding, learn about well-used travel routes across the Great Divide, and discuss details of the grizzly's survival strategies, its complex behavior, and its important role as a keystone species within the park's high country.
Douglas H. Chadwick is a wildlife biologist and the author of more than 400 articles for popular magazines and 10 books on natural history and conservation. A longtime contributor to National Geographic, he travels around the world reporting on species from whales and weaver ants to snow leopards and gorillas. But his home and heart remain in the Glacier Park area, where he hikes hundreds of miles each year.
Suggested Reading from the author:

A Beast the Color of Winter: The Mountain Goat Observed. University of Nebraska Press. 2002.
True Grizz. Sierra Club Books. 2003.
Growing up Grizzly. Falcon Guides/Globe Pequot Press 2007