Wilderness and Safety
A trip to the chalets is an exciting adventure! While we work hard to keep the chalets comfortable and hospitable for you, it is important to remember that you are visiting a wilderness area that contains many challenges and hazards. We do not want to discourage you from a trip into the backcountry; we do want you to be knowledgeable about what you are getting into so that you can visit us safely.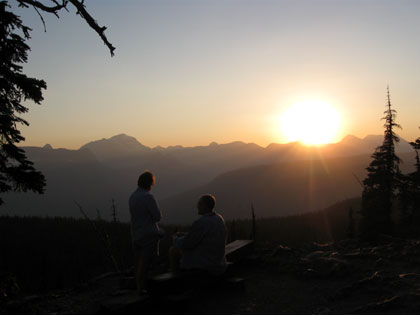 Enter the wilderness at your own risk. Anyone traveling into the backcountry of Glacier National Park, whether you are day hiking, backcountry camping, or visiting the chalets, is expected to take responsibility for their own safety. You should think about and be prepared for wilderness hazards ahead of time. Some of the hazards of wilderness include, but are not limited to:
Slip and fall accidents
Drowning
Cold and hypothermia
Heat and dehydration
Exertion and fatigue related injury
Inclement weather
Disorientation and getting lost
Insect bites and stings
Dangerous wildlife
Fires or smoke
No one at the chalets or in the Park can guarantee your safety while you are traveling in the backcountry. It is up to you to be prepared and hike smart. For beginners there can be a lot to learn about wilderness safety, more than we could tell you here. Use the tips listed below or call and ask us questions if you have safety concerns about your trip to the chalets.
Your chalet reservation makes no guarantees about the weather, the wildlife, or any other wilderness hazards you may encounter. We cannot refund any reservation if bad weather, trail conditions or other wilderness hazards prevent you from reaching the chalets. If you are concerned about losing your reservation due to poor weather or other wilderness hazards, you should consider purchasing travel insurance from your insurance or travel agent.
When all the dangerous cliffs are fenced off, all the trees that might fall on people are cut down, all of the insects that bite have been poisoned, and all of the grizzlies are dead because they are occasionally dangerous, the wilderness will not be made safe. Rather, the safety will have destroyed the wilderness.
R. Yorke Edwards (Canadian Environmentalist)
New to hiking
For those of you who are new to wilderness hiking, here are some of the basics of safety and etiquette. These tips cover what most people need for a fun, safe trip into the chalets.
Dress in layers. Be prepared to add or remove clothing due to changes in temperature or exertion. Never go into the backcountry without bringing a layer of warm clothing, or without a waterproof outer layer.
Bring the 10 essentials. Map. Compass. Sunglasses and sunscreen. Extra food and water. Extra clothes. Flashlight. First aid kit. Fire starter. Matches. Knife.
Food and water are important. Trail snacks can help you along, and consider an extra water bottle.
Pack in, Pack out. Carry out with you everything you carried in, including and especially all your trash.
Ensure someone knows your exact hiking plans, and let them know when you return.
Leave no trace. Take nothing but photographs; leave nothing but footprints.
Talk, shout, sing and make noise on the trail. This will help keep you from surprising or startling any dangerous wildlife.