December 21, 2009 - Monday
Merry Christmas and Happy New Year!
While others may be nestled in their beds with visions of sugar plumbs, we tend to dream more about marmots, mountain goats, and hiking in Glacier. From the backcountry at Granite Park and Sperry Chalets, a warm thank you to everyone that visited us this past summer, and all the friends we are looking forward to meeting in the new year.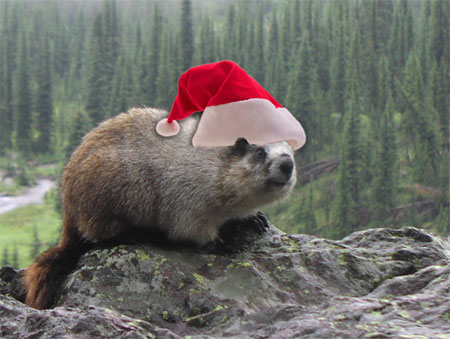 Our offices will be closed for the Holidays starting Wednesday, December 23. We will be back again to help you on Monday, January 4.
Merry Christmas
October 30, 2009 - Friday
Reservation deposits
What an exciting week we have had. Everyone here is amazed by the incredible number of people trying to get rooms in our tiny hotels. Thank you very much.
For those of you with a reservation, please pay your deposit from the statement you receive in the postal mail. We are certain to get backlogged on deposit payments here very soon, so we are temporarily waiving the two week deposit deadline. Your reservation will be secure while we get caught up on all the incoming deposits.
If we were not able to create the reservation you wanted, please watch the availability calendar over the winter. We do not keep a waiting list, but we will update that calendar daily. If a cancellation or change creates a vacancy, this is the best place to check.
Thank you. We are looking forward to meeting you in the mountains next summer!
October 27, 2009 - Tuesday
2010 reservations update
Thank you for your enthusiasm for the chalets!
This year we have a larger staff helping with your reservations, but there are also more reservation requests coming in than we have ever seen before. We are personally handling each reservation to make sure we get the details right.
If you sent in an online reservation request this week, we are working hard to answer it. We will handle every reservation request in the order it was received; however with the backlog that has built up, it will probably take us a couple more days to answer them all.
If you are trying to reach us on the phone, thank you for your patience and persistence. It is great to hear from so many old friends and new ones that love the Glacier Park backcountry. We know it can be frustrating to listen to the phone ring or get the busy signal, but we are working hard to help you connect with us.
If you are watching the availability calendar fill up, you can already tell what the popular days for 2010 will be. The calendar cannot keep up when we are this busy, so availability shown there cannot be guaranteed. If your vacation days have already filled, we are terribly sorry. We wish we could serve everyone that wants to visit and it hurts us to tell you there is no vacancy. Please keep watching the calendar over the winter. Changes can and do happen.
We appreciate your business!
October 19, 2009 - Monday
Chalet reservation tips.
We are getting ready for your 2010 reservations starting on Monday, October 26. We have been receiving a lot of common questions about making reservations, so here are some tips to help everyone out.
Office Hours. Starting October 26 our office hours will be from 8:00am to 2:00pm in the mountain time zone (Glacier Park time).
Phone or Email? Use the communication method you are most comfortable with. We will be staffed to handle both simultaneously and neither will have priority. Either way, please be patient. Reservations are very busy for the first several days we are open.
Email has the advantage of staying in queue allowing us to answer all incoming requests in the order received. Please use the reservation request form on our website so that we have all the information needed to create a reservation. The disadvantage is the difficulty in getting timely responses to questions. If your request is incomplete or cannot be filled, your reservation will not be granted and any followup questions or requests will end up at the back of the line.
The phone has the advantage of an instant response to your query and is the best choice if you have special needs, or a large or complicated reservation. The disadvantage is that the phone line will be very busy and you will be unlikely to get through on your first try. Due to the volume of calls we will not be able to return calls or respond to voice mail.
Thank you for your enthusiasm about the chalets. We are looking forward to talking with you soon.
September 21, 2009 - Monday
2010 Information
Here is some information to help you plan for next summer.
Granite Park Chalet will be open from June 29, 2010 through September 9, 2010.
Sperry Chalet will be open from July 7, 2010 through September 10, 2010.
Reservations will be available starting October 26, 2009. We cannot accept any early reservation requests.
Happy Trails!
September 8, 2009 - Tuesday
Closed for the season.
Granite Park Chalet is closed for the season. We hope you had as much fun as we did this year. It was great to see so many old friends and new faces at the chalet this summer.
The reservation office will be closed for several weeks while we prepare to get started on next years reservations. Watch this space for information about rates, dates and schedules for the 2010 season. We will have that information for you soon.
Happy Trails!
September 5, 2009 - Saturday
Trails open
The Swiftcurrent Pass closure has been lifted. Happy hiking!
If you are visiting Granite Park Chalet this weekend please be ready for some weather changes. This Sunday the weather is supposed to get colder, windy and wet. Be sure to carry extra clothing suitable for cold and wet conditions. In harsher weather conditions, the Loop Trail is the safest, easiest access to Granite Park Chalet.
September 1, 2009 - Tuesday
Swiftcurrent Pass trail is closed.
For those of you planning to travel between Granite Park Chalet and the Many Glacier area, the Swiftcurrent Pass trail has been closed due to bear activity. The Highline Trail to Logan Pass and the Loop Trail remain open.
You can get the all the latest information on trail status here:
http://www.nps.gov/glac/planyourvisit/trailstatusreports.htm
August 12, 2009 - Wednesday
Supporting Glacier National Park
We are proud to announce an easy new way for chalet guests to support Glacier National Park. When you make a reservation at Sperry or Granite Park Chalet, you may donate to the Park through a voluntary $1 per room, per day, add on to your room bill.
The chalets are working in collaboration with the Glacier National Park Fund and 100% of the donations received will be used to support Glacier National Park. Through your generosity projects including wildlife research, historic preservation, trails maintenance, and many more can be accomplished. Small gifts can add up to something truly significant.
If you would like to support Glacier National Park with $1 per room, per day, added to your bill, simply let the reservation office know at any time. Your donation will be listed on your bill and it is tax deductible. This donation will not be added to your bill without your approval.
Thank you for helping take care of Glacier National Park.
August 6, 2009 - Thursday
Granite Park in August
Our summer season is half gone, but there is still lots of hiking to do. For those of you visiting us in August and September, there are some great opportunities for you at the chalets. Huckleberries are starting to ripen at the higher elevations, and there are still lots of wildflowers to enjoy. The shorter days will make for better star gazing, and August is well known for meteor showers. And as the weather gets cooler there will be fewer mosquitos and more easy, care free hiking.
Be sure to carry rain gear and a warm layer when you hike to the chalet. The evening thundershowers we have been enjoying are keeping the mountains cool and damp.
Happy Trails
July 5, 2009 - Sunday
Summertime in Glacier
Life is good when you can drive Going to the Sun Road, hike the Highline trail, and put your feet up at Granite Park Chalet. Yes, we are open for the season.
Be ready for snow on the Highline Trail. The path has been tread, but you will need good boots to stay secure and dry. Lingering snowfields are likely until the middle of July.
Have a great summer and be safe out there!
June 26, 2009 - Friday
Roads and Trails
The news from Glacier Park is that the entire length of Going to the Sun Road will open today. Enjoy your drive up to Logan Pass. If riding sounds better to you than driving, the Park shuttle system begins operation on Wednesday, July 1.
The Highline trail from Logan Pass to Granite Park Chalet remains closed. The park is currently estimating a July 3 opening for this trail. But be advised, open is not the same as clear and safe. Plan to traverse long stretches of snow covered trail. The Park is recommending ice axes for the trip. For the first weeks of July, this trail will be a poor choice for inexperienced hikers. You can get up to date trail status information from the park service website, or from any visitor center in the park.
The Loop Trail to Granite Park Chalet is already open and the wildflowers are already beautiful. The Loop Trail is your best choice if the Highline Trail is closed or too ambitious for you.
We can't wait to see you in the mountains. Have a safe hike!
June 18, 2009 - Thursday
Summer office hours
Beginning on Monday, June 22, we will be changing to our summer office hours. We will be in the office from 9:00 a.m. to 6:00 p.m. in the Mountain time zone (Glacier Park Time) every day until the chalets close in September.
Looking forward to seeing you at the chalet!
June 10, 2009 - Wednesday
Road and trail status
June is a magical time of year in Glacier National Park. As the snow melts away more and more of the park opens up to visitors and hikers. If you are wondering how close the snowplows are to Logan Pass or if your favorite trail is open yet, the Park Service website has the answer.
For information about Going to the Sun Road or other park roads, you can see what is open here. And check the progress of the snow plows here.
For hiking information you can get the most up to date trail status reports here. The main trails to Sperry and Granite Park Chalets will be under the Lake McDonald link. Or keep this bookmark handy for quick access, like we do.
When you are traveling in the park and away from the internet, stop by any park visitor center. You can get this same up to date road and trail status information there.
Happy Hiking!
May 5, 2009 - Tuesday
Friendly reminder
Administrative fees for reservation changes or cancellations will take effect on the first of June. If you have an existing reservation, the month of May is your last opportunity to make changes without penalty. Beginning June 1 a $10 administrative fee will be added for reservation changes or cancellations. There will be no fee for ordering food or linen service.
Thanks
April 24, 2009 - Friday
The 2009 Retail Menu is now available.
Greetings hungry hikers, the Granite Park Chalet retail menu is now available.
If you want the convenience of a lighter backpack with all your food waiting for you at the chalet, the food order is just what you need. Get all the details about the pre-order retail menu here.
Happy Hiking!
April 13, 2009 - Monday
Airport closure
For those of you planning to fly to Glacier National Park this August, please be advised of some planned closures of the Kalispell airport (Glacier Park International).
The Kalispell airport will be closed on Tuesdays, Wednesdays and Thursdays between August 2 and August 27, 2009. The airport will be undergoing runway maintenance on these days. Weekend travel will not be disrupted.
If you need to fly to the area midweek during August, please contact your airline or travel agent. The next closest airports to the Park are in Great Falls, Missoula, Spokane, or Calgary.
More information is available here:
http://www.iflyglacier.com/runway-rehabilitation-aug-2009
Have a safe vacation!
February 17, 2009 - Tuesday
Chalet artwork now available
Our GrizzlyGoat gift shop is now carrying chalet artwork. Take a look over at GrizzlyGoat.com.
Good wilderness etiquette dictates that you should take nothing but pictures and leave nothing but footprints. So if you want a trophy from your chalet adventure, your best choice is a large, high quality illustration or photo. They are great for decorating your home and keeping the spirit of Glacier near you even when you are far away.
Happy Hiking
Look up old news:
2007 2008 2009 2010 2011 2012 2013 2014 2015 2016 2017 2018 2019 2020 2021 2022 2023